FAIRTEX - TRAINER'S VEST (TV2)
This Great Looking Training Vest Provides You With The Ability To Train Hard Whilst Simulating A 'Real' Fight.
This vest is worn by the trainer so that the trainer can take full-force body shots and push kicks without sustaining an injury.
Thick Front & Side Padding.
Maximum Durability.
Better Shock Absorption.
One Size.
Material: Microfiber.
Weight: 3kgs.
Available In: Black/Red & Black/Gold.
The thick padding on the front and side is designed to absorb the full force of push kicks and body shots without sustaining an injury. This allows for a fuller training experience.
Made from Microfiber to cut weight and for maximum durability, these pads also have a better shock absorption than the TV1 trainer's vest.
(FX-TV2)
Others Also Bought...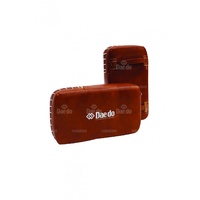 DAEDO - Iranian Leather Kick Shield
Not yet rated
$99.00
More From This Category
...