HCE BATTLE FITNESS ROPE
Battle Ropes Can Provide You With An Effective Full-Body Workout!
A Single Piece Of Equipment That Is Successfully Used To Lose Fat, Build Muscle, Gain Power & Strength, Whilst Also Being Perfect For Core Work, Cardio & Expanding Your Aerobic Capacity.
Full-Body Workout!

Lose Weight.

Gain Muscle.

Build Strength & Power.

Expand Your Aerobic Capacity.

Strengthens Core & Stability.

Improves Scapular Health.

Improve Rotational & Multiplanar Strength.

Provides An Ultimate Upper Body Workout.

Loose Weave Rope Ensures Flexible & Natural Motion & Rotation.

Made From Flexible Weatherproof PolyPropylene.

Available In 10 metres & 20 metres.
Battle ropes are an effective way to build muscle and lose fat.
Used by powerlifters, Olympic weightlifters, strongmen, and functional fitness athletes, battle ropes can provide you with a full-body workout.
Battle ropes can be used to improve your rotational and multiplanar strength and stability and your scapular health.
The loose weave in the rope ensures a flexible and natural motion and rotation, providing you with the ultimate upper body, cardio, and core workout.
This Battle Fitness Rope is made from flexible PolyPropylene material which is virtually impervious to the natural elements and weather and requires no maintenance.
(HCE-FITRPE)
Others Also Bought...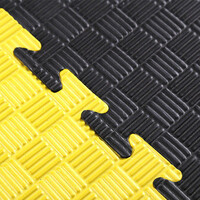 Martial Arts Jigsaw Mat - 30mm - 5 Stripe Finish - Black/Yellow
Not yet rated
RRP $60.00
YOU SAVE $15.00!
$45.00
More From This Category
...